Plugz Spotlight
CENTRAL MUSIC AWARDS 22: Orkortor Perry, Mr Fantastik, Epixode, Ssnow Beatz & others nominated in various categories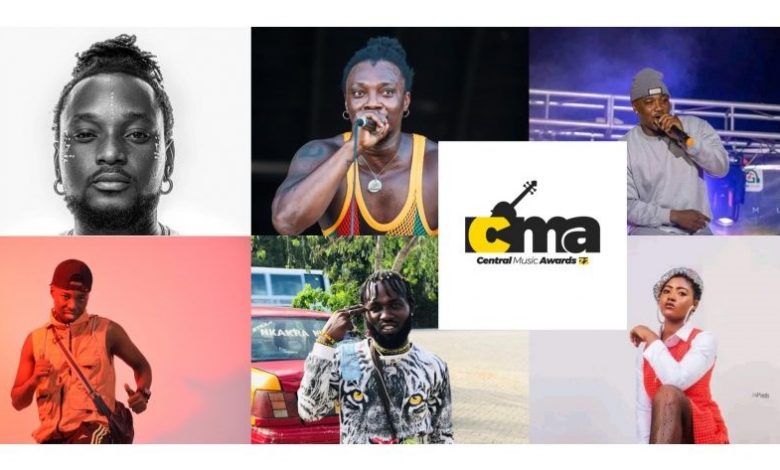 Heritage Event promotions, the organizers of the annual Central Music Awards on Friday, October 7, 2022, launched and unveiled the official nominees for the 11th edition of Central Music Awards.
Unlike the previous years when nominees were unveiled online, Heritage Event Promotions in partnership with Toppaird Event Center held a grand launch in Cape Coast to officially unveil the nominees for the 2022 edition.
After weeks of music industrial research by the board and academy members through an assessment of nominations filed by artistes and industry players, over 400 nominees under 38 categories were unveiled.
Music industry players, music lovers and the general public are to note that, voting starts officially on Monday, October 10, 2022, and will be accessible via the short code *447*714# or on www.castevotegh.com.
The Central Music Awards is organized annually to honour artistes and industry players who have contributed to the development of creative arts in the central region.
Below is the full list of nominees for the Central Music Awards 2022
EMERGING ARTISTE OF THE YEAR
ANYAANA
DENZEL WHITE
SENYEHA LEKWANBI
PAUL BOISON
JOE KESH
DIAMOND KING
AHOMAKYE
ABEI
EKUMFI TIGER
ALBERT POSSIBLE
YUH KHNOW
 PRODUCER OF THE YEAR
SSNOW BEATZ
SPARTAN BEATZ
LIUGEE BEATZ
KING ODYSSEY
KP BEATZ
BROWN BEATZ
BIGSAM BEATZ
SHORT BEATZ
 SOUND ENGINEER OF THE YEAR
DA BEATMAKER
SSNOWBEATZ
LIUGEEBEATZ
KING ODYSSEY
KP BEATZ
SHORT BEATZ
BIGSAM BEATZ
 MUSIC VIDEO OF THE YEAR
DEDEBAH – Have Fun With It
ROY X TAYLOR – Christ
MISS A JAY – Keep Moving
LEEDO BEB – For Your Love
ORKORTOR PERRY – Fine Boy
KHOFY GUYSON – Koda
ESI BENTIL – Mede Mema Wo
YAW BLVCK – Disconnected
BOABIS – Soul Mate
KWAME YOGOT – For The Boys
DAY VYBZ – Rollover
KUUKU BLACK/V SUNSHINE – Komkom
TWICY – Kinda Love
MINAB – More Vim
FEMALE VOCALIST OF THE YEAR
AMA NOVA
ESSI MORE
IONA REINE
LOYCE
ADJOA PRAIZE
OBAA VIDA
MISS A JAY
ESI BENTIL
SONGWRITER OF THE YEAR
AMA NOVA – Akroma
QUARMY ZAGGY – Galamsey
OSAGYEFO AYPC – Ma Kuuku Baby
KIDIAN L. JESUS – May We All Be Great
JAY BABA – Solo
GODDY WAN – Rose of Sharon
YAW BLVCK – Lose
ADJOA PRAIZE – Counting my blessings
ALBERT POSSIBLE- Meka
ROY X TAYLOR- Christ
LHIPTON – More Life
SKIPPY BROWN – Doe Keke
ABOLO – Nipa
 HIPLIFE SONG OF THE YEAR
AMANKRADO GH – Amen
JOE Mexx – Konkonsa
FOLIVI – Bo Me Ka
MINAB – Paper
ORKORTOR PERRY – Fine Boy
ABOLO – Onipa
KWAME YOGOT – For the boys
EKUMFI TIGER – Me pe Wo saara
SMELLING GOOD NIGHT – Sheleshey
RASTIMO – Bossu
OGATOO – Party
DIIJAY KAY GEE – No Fear
 MALE VOCALIST OF THE YEAR
QUARMY ZAGGY
ROY X TAYLOR
SPARROWBIOM
AREA SUPERSTAR
YAW BLVCK
ANYAANA
C BURN
IDI KAWAWA
HIGHLIFE SONG OF THE YEAR
QUARMY ZAGGY – Galamsey
AMA NOVA – Akroma
FOLIVI – Yaa Amponsah
SMELLING GOOD GENG – Friday Night
JAY BABA – Solo
KOJO BLACK – Highlife Agago
ABIBIW – AB Crenstil Ft. SAMO
TWICY – Latext Issue
ROY X TAYLOR – Christ
LEEDO BEB – For your love
C BURN – Only You
NEW VISION 224 – Obiaa p3
 HIPHOP SONG OF THE YEAR
SLYM KHID – Adisadel Boys
GODDY WAN – Far from home
TALLYBO – Ekuebue Remix
MINAB – More Vim
ORKORTOR PERRY – Kese Wo Kan
WOLF 202 – King of Kings
ABOLO – Pressure
KOJO VYPA – MOE
MISS A JAY – Keep Moving
KWAME YOGOT – New King
LHIPTON – Me Wo Fie
BOBBY DE CARTER – My Nagga
TWEPSIN – Ashawo Season
 BEST PROMOTER DJ OF THE YEAR
DJ QWEQU
DIJAH KAY GEE
DJ EBEN
DJ MOZEY
DJ KOBBY
 BEST PROMOTER ONLINE OF THE YEAR
MEDIA CONNECT GH
WADUPGH.COM
CREATESHUB.COM
NANA ANTOBAM JNR
KOJO SAKSES
MANKESSIMNEWS.BLOGSPOT.COM
 DANCEHALL SONG OF THE YEAR
EKUMFI DAGO – Dirty Money
KARKIDY Ft. LORD ZIGGY — Dancehall Time
MR FANTASTIK – Good Loven
TOPPA RANK – Bad Mind
OBOY GASPY – Keep it real
EMOGY DJR – Cold world
KAY MENA – Fire
OSAGYEFO AYPC – Ma Kuul Baby
JAHDONE RATTY Ft. KAHPUN. – Gbesse
 BEST GROUP OF THE YEAR
ECAC WARRIORS
RICHKID & GALLO KARTEL
SMELLING GOOD GENG
ZONGO FALENT
JOE WHILLIE
ZONGONIANS
 FEMALE ARTISTE OF THE YEAR
ESI BENTIL
MINAB
ESSI MORE
LOYCE
ADJOA PRAIZE
DEDEBAH
IONA REINE
AMA NOVA
 BEST FAN BASE OF THE YEAR
EVERYTHING NICE FAMILY- Goddy Wan
BAMUGEE FANS – Ayagon
CAT NATION – Tallybo
BONYO TEAM – Orkortor Perry
BEST PROMOTER PRESENTER OF THE YEAR
EKOW MENSAH – Hope FM
THINKA DE MEGABWOY – Benya FM
DJ TRACK – Hope FM
NAY WILLZ – OSIMPAM FM
MISTA CHANGI – OBAATANPA RADIO
DJ LOMO – PINK FM
MR ELVIS – ROCK FM
 BEST INTERNATIONAL ARTISTE OF THE YEAR
DENZEL WHITE – UK
MR FANTASTIK – Canada
JAY BABA – USA
DAY VYBZ – Germany
OSAGYEFO AYPC – Qatar
C BURN – USA
NEW VISION 244 – USA
 BEST MANAGEMENT OF THE YEAR
NKUBOKS
BLACK MUSIC ENTERTAINMENT
LEAP OUT DUDE
JAMS ATY RECORDS
SBD RECORDS
KING PEE
CHECKZONE FAMILY
SKY ENTERTAINMENT
 LIVE BAND OF THE YEAR
SALTPOND CITY BAND
DEEDEW BAND
NYIMDZII BAND
OGUAAMAN BAND
EMINTSIMADZE BAND
 BEST MASQUERADE GROUP OF THE YEAR
NOBLES – Agona Swedru
ADZEPA MASQUERADE – Cape Coast
OHYEWAKOMEM MASQUERADE – Cape Coast
EMIRATE MASQUERADE – Cape Coast
RED INDIANS – Agona Swedru
HIDE AND SEEK – Agona Swedru
 BEST PUB/NIGHT CLUB OF THE YEAR
WHISPERS TALES
KISMET PUB
LADY NASH PUB
THE TRUTH PUB
2ND KASTLE
SAHARA SPRING
THE FINEST PUB
HIGHWAY BAR & RESTAURANT
 BEST CAMPUS DJ OF THE YEAR
DJ ZICO – UCC
DJ PATO – UCC
DJ CYBORG – UCC
BEST CAMPUS MC OF THE YEAR
SHIRTLESS MC – UCC
SADIQ CARTER – CCTU
BOY JAY X – UCC
SOPHIA – CCTC
KOBBY JAYSON – UCC
FAREDA – CCTU
 BEST CAMPUS ARTISTE
MISS A JAY — WNTC
RAPSYNTIST — CCTU
BABS — UCC
MR B FLY — ATI
PUNCHLINES — CCTU
KWESI JAY — UCC
MCBEENY — CCTU
KWABENA SUMMER — UCC
KWESI SELLOUT – CCTU
 BEST CAMPUS EVENT HOUSE OF THE YEAR
DOT IT EVENTS – CCTU
AMARETTI — UCC
HYPER MULTIMEDIA – UCC
TF MEDIA — UCC
FH MULTIMEDIA — CCTU
XTACY — UCC
BEST BRASS BRAND OF THE YEAR
CAPE VIBES BAND – Cape Coast
PEACE BRASS BRAND – Winneba
ADOM MYSTERIOUS BAND – Cape Coast
AGONA SWEDRU YOUTH BRASS BAND – Agona Swedru
SHOWERS INTERNATIONAL BRASS BAND – Agona Swedru
HIDE AND SEEK – Agona Swedru
 REGGAE SONG OF THE YEAR
HYSEE — Lonely
MR FANTASTIK — Love Passion
ANDY PROPHET – Nanso
KARKIDY – Corona Virus
YAW BLVCK – ABCD Love
 AFROPOP SONG OF THE YEAR
AMWAN – 50-50
SLYM KHID — POPPIN
SPARROWBIOM – Work hard
KIDIAN L. JESUS – May We All Be Great
TALLYBO- I dey like am
YAW BLVCK – Jealous
TWICY – Kinda Lady Ft. KURL SONGX
IONA REINE – Could this be love
JOE MEXX – Struggle
MARC KARENCY – Hosanna
ELUMFI TIGER – Heart Beat
ANYAANA – Mary Me
LIL SHERIF – Kom Kena
GOSPEL ARTISTE OF THE YEAR
ESI BENTIL
ADJOA PRAIZE
OBAA VIDA
ALBERT POSSIBLE
MAA FAUSTY
SIR SOLOMON
 BEST COLLABORATION OF THE YEAR
GODDY WAN – Ft. LOKAL & ABE BEATZ – Far From Home
KUUKU BLACK/V. SUNSHINE- Komkom
FOLIVI Ft. EXTREME – Rainy Season
YAW KISS – Lil Wisky Gye Me
REB JOE Ft. DON LEE – Crazy
SKIPPY BROWN Ft. KOBY SYMPLE & RUNBY GH – Doe Keke
JAY BABA Ft. AYESEM – Solo
ERNY Ft. XLM THUG – North face Gucci
ABOLO Ft. KWEKU DARLINGTON- Pressure
2FEET Ft. ZIZEZERO & TABOO – How far bru
MVEE Ft. KWAME YOGOT – Hajia Chelsea
TWICY Ft. Kurl Songx – Kinda Lady
KWAME YOGOT Ft. KWEKU DARLINGTON – For The Boys
DJ REPENTANCE Ft. KOBY SYMPLE & KAHPUN – Due
 BEST EP/ALBUM OF THE YEAR
QUARMH ZAGGY – Mr Lova EP
PAUL BOISON – God of Wonders EP
ESI BENTIL — Unconditional Love
SENYEHA LEKWAMBI – Root if Lekwambi
YAW BLVCK — Love of Something Else
KWAME YOGOT — New King
ORKORTOR PERRY – Fante Drill EP
DEDEBAH — Bosompemaa EP
ROY X TAYLOR — Taylor Made EP
LHIPTON — 6IX on Dice
PAWES HEARME — The Untold
NEW ARTISTE OF THE YEAR
BLARK TANA
KIDIAN L. JESUS
WOLF 202
ESI BENTIL
MISS A JAY
ESSI MORE
SHAPIRO HIGHEST
MYSKAL
MVEE
YAW KISS
 GHANA POPULAR SONG OF THE YEAR
CAMIDOH – Sugarcane
EPIXODE Ft. KWABENA KWABENA — Atia
BLACK SHERIF — Kwaku the traveller
LASMID – Friday Night
KELVYN BOY – Down Flat
AMERADO Ft. LASMID — Grace
KOFI KINAATA – Wo Pre
 SONG OF THE YEAR
QUARMY ZAGGY – Galamsey
ROY X TAYLOR – Christ
ORKORTOR PERRY – Fine Boy
KIDIAN L. JESUS – May We All Be Great
KOJO VYPA – MOE
KWAME YOGOT Ft. kWEKU DARLINGTON — For The Boys
JAY BABA Ft. AYESEM — Solo
 BEST RAPPER OF THE YEAR
KWAME YOGOT
KOJO VYPA
GODDY WAN
WAGEZ RAP
KOJO LINTON
OMAR BURNER
ABOLO
2FEET
ABIBIW
TABOO
ARTISTE OF THE YEAR
QUARMY ZAGGY
ROY X TAYLOR
ORKORTOR PERRY
KOJO VYPA
KWAME YOGOT
JAY BABA
Source: Heritage Promotion