News Flash
The V and P Foundation Enhances Healthcare in Jamaica by Donating Oxygen Concentrators to the Ministry of Health and Wellness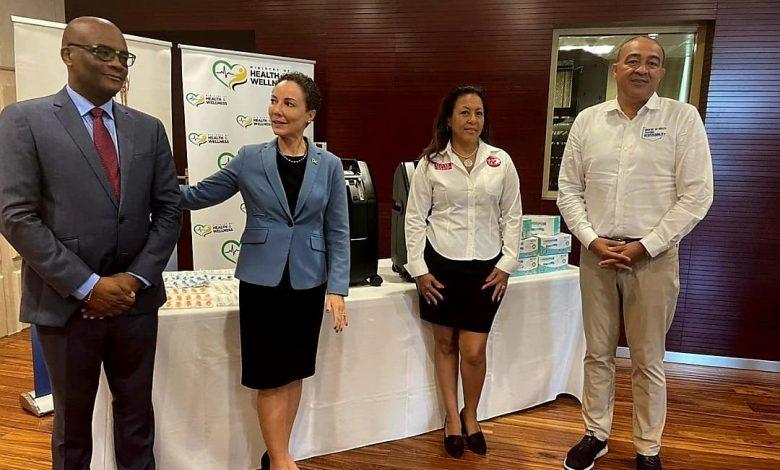 The V and P Foundation, established by Patricia 'Miss Pat' Chin, has recently made a generous contribution to the Ministry of Health and Wellness in Jamaica. The foundation's donation of five state-of-the-art oxygen concentrators was facilitated through the Ministry of Foreign Affairs and the Consulate General of New York for Jamaica. This collaborative effort involved esteemed partners such as the Hartford Health Group, the Rollins Foundation, and Dr. Robert Clarke.
The combined value of this substantial donation amounts to $68 million (JA). These advanced medical devices will significantly bolster the healthcare infrastructure of Jamaica, particularly outside the Kingston metropolitan area. The concentrators will be promptly distributed to hospitals in need, enabling efficient and effective care for patients.
Minister Tufton expressed his gratitude for the public-private collaboration, stating, "Public-private donations such as this greatly enhance our capacity to respond effectively to public health challenges. It is a testament to our commitment to holistic healthcare."
Patricia 'Miss Pat' Chin, founder of The V and P Foundation, emphasized the importance of collective efforts in supporting Jamaica's healthcare system. She said, "We are delighted to contribute alongside our esteemed partners to ensure that Jamaica receives the vital medical support it needs. The V and P Foundation remains committed to uplifting underserved communities in the Jamaican Diaspora and the Caribbean by supporting music education and providing emergency assistance to musicians and artistes. It is through collaborations like these that we strive for a brighter and healthier future."
The V and P Foundation continues to make significant strides in its mission to foster music education, empower the younger generation of musicians, and extend emergency aid to those in need. Their philanthropic endeavors resonate deeply within the Jamaican Diaspora and the Caribbean, uplifting communities and promoting access to essential resources.