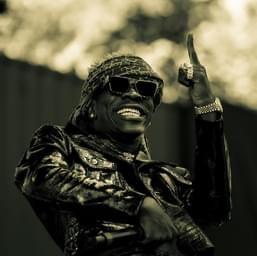 The winners of the seventh annual Ghana Music Awards UK (GMA-UK) were announced at The Royal Regency in London on 7 October, with dancehall singer Shatta Wale the night's biggest winner.
The scheme celebrates the influence of Ghanaian music in the UK, and this year's edition honoured works released between April 2022 and March 2023, across more than 30 categories. Shatta Wale bested fellow stars Black Sherif, Piesie Esther, Stonebwoy, Sarkodie, and King Promise to annex the Artist of the Year prize, previously held by Black Sherif.
Aside from the coveted trophy, Shatta Wale, fuelled by hit record 'On God', clinched the awards for Reggae/Dancehall Artist of the Year, Reggae/Dancehall Song of the Year and Song of the Year. His fanbase, Shatta Movement, was also recognised as the Most Dominant Fanbase of the Year.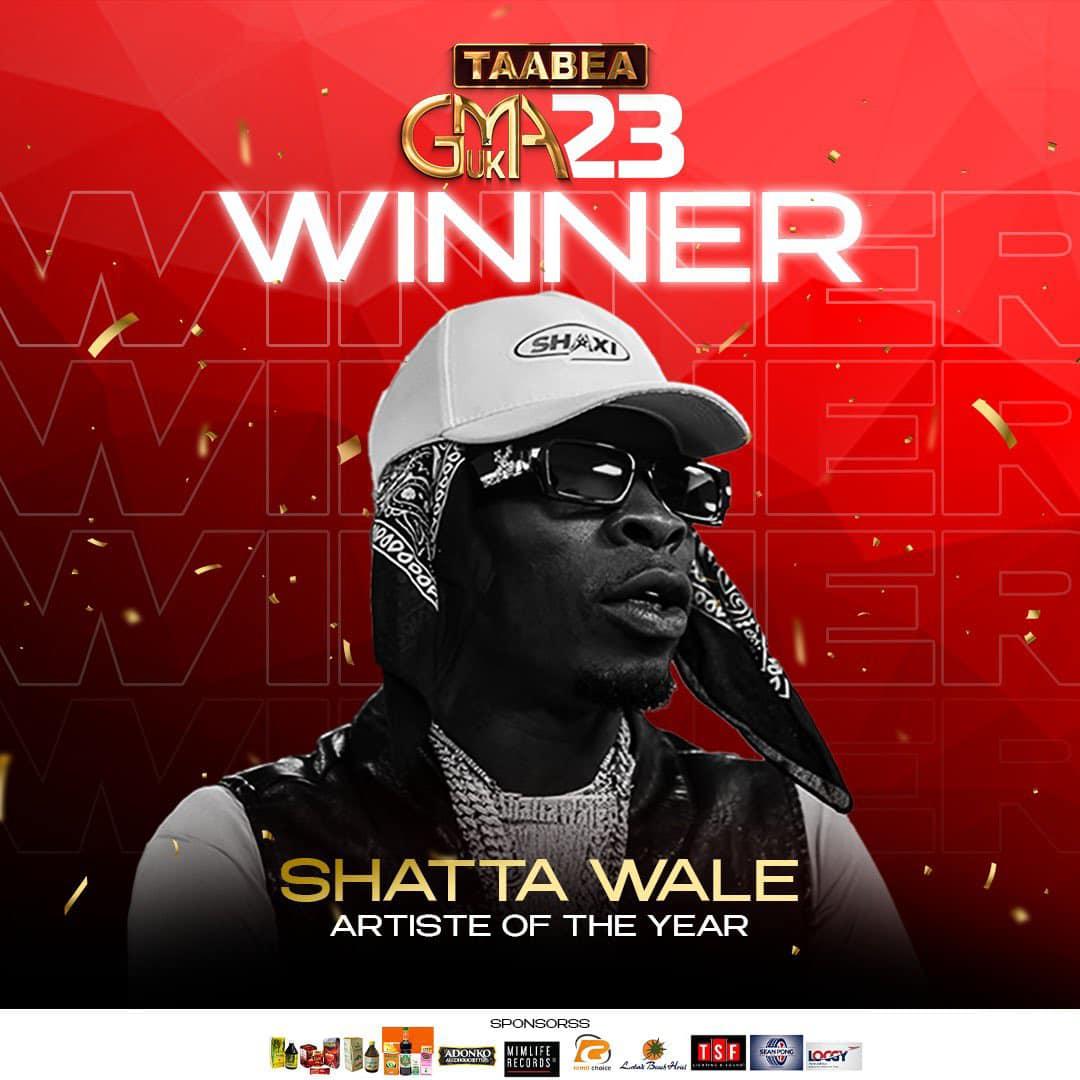 Below is the full list of winners:
Hiplife/Hip Hop Artist of the Year
Black Sherif
Sarkodie
Medikal
Amerado
DJ Azonto
Lasmid
Hiplife/Hip Hop Song of the Year
'Friday Night' – Lasmid
'Scarface' – Medikal
'Grace' – Amerado ft. Lasmid
'Ewiase' – Kweku Flick
'Country Side' – Sarkodie ft. Black Sherif
'Soja' – Black Sherif
'Fa No Fom' – DJ Azonto
'Benzo' – Malcom Nuna
'Kwacha' – YPee ft. Yaw TOG
'Pressure' – Kimilist
'Obaa Hemaa' – Skyface SDW ft. O'Kenneth, Reggie, Beeztrap KOTM, Kwaku DMC & Jay Bahd
Highlife Song of the Year
'Atia (High-life Rendition)' – Epixode ft. Kwabena Kwabena
'Adidede' – Adina
'Adom' – Kwesi Arthur
'Have Mercy' – Kofi Knit
'Champagne' – KiDi
'My Darling' – Akwaboah ft. Kwabena Kwabena
'Outside (Abonten)' – DJ Breezy ft. Kwesi Arthur, Mugeez, Stonebwoy, Black Sherif & Smallgod
'Afraid to Lose You' – Kwabena Kwabena
'Ofon Na Ɛdi Asɛm Fo' – Daddy Lumba
'Settle' – Gambo ft. Keche
Highlife Artist of the Year
Adina
Kofi Kinaata
KiDi
Akwaboah
Kwabena Kwabena
Gospel Song of the Year
'Wayε Me Yie' – Piesie Esther
'My Meditations' – Diana Hamilton
'Final Say (Medley)' – Celestine Donkor
'Mala' – MOGmusic
'This Far' – Ewura Abena
Gospel Artist of the Year
Piesie Esther
Diana Hamilton
Celestine Donkor
MOGmusic
Reggae/Dancehall Artiste of the Year
Ras Kuuku
Epixode
Rocky Dawuni
Stonebwoy
Shatta Wale
Samini
Reggae/Dancehall Song of the Year
'3 3 & 1 (Miensa Miensa Ne Baako)' – Ras Kuuku
'Atia' – Epixode
'Don't Forget Me' – Black Sherif
'Never Bow Down' – Rocky Dawuni ft. Blvk H3ro
'On God' – Shatta Wale
'Abundance' – Samini
'Eyes On You' ft. Stonebwoy – Maccasio
Afrobeats Artist of theYear
Camidoh
King Promise
Gyakie
Wendy Shay
Afrobeats Song of the Year
'Kaba' – Camidoh
'Something' – Gyakie
'Balance It' – D Jay
'Ginger' – King Promise
'Jo' – FBS ft. Mr Drew
'Therapy' – Stonebwoy
'Carry Go' – Sista Afia
Male Vocalist of the Year
Camidoh
Stonebwoy
King Promise
Akwaboah
Kwabena Kwabena 
Female Vocalist of the Year
Piesie Esther
Cina Soul 
Abiana
Adomaa
Ewura Abena
Ruth Adjei
Instrumentalist of the Year
Dominic Quarshie
Prince Sennah
Emmanuel Bludo
Dan Grahl
Prince Hakim
Ahwenepa
Songwriter of the Year
Piesie Esther – 'Wayε Me Yie'
Akwaboah – 'Darling'
Black Sherif – 'Oh Paradise'
Fameye – 'Thank You'
Diana Hamilton – 'My Meditations'
Ewura Abena – 'This Far'
Epixode – 'Atia (High-life Rendition)'
Best Group of the Year
FRA!
Bethel Revival Choir
DopeNation
Keche
Best Rapper of the Year
Medikal – 'Scarface'
Strongman – 'Goated'
Sarkodie – 'Country Side' ft. Black Sherif
Amerado – 'Obiaa Boa'
Eno Barony – 'The Finish Line' ft. Amerado
Lyrical Joe – 'Hmmhm'
Best Collaboration of the Year
FBS – 'Jo' ft. Mr Drew
Sarkodie – 'Country Side' ft. Black Sherif
Epixode – 'Atia (High-life Rendition)' ft. Kwabena Kwabena
Amerado – 'Grace' ft. Lasmid
Frank Naro – 'Koom' ft. Fameye
Sarkodie – 'Labadi' ft. King Promise
DJ Breezy – 'Outside (Abonten)' ft. Kwesi Arthur, Mugeez, Stonebwoy, Black Sherif & Smallgod
DJ Vyrusky – 'Body Body' ft. KiDi & Camidoh
FRA! – 'You Dey Feel The Vibe' ft. Nana Yaw Ofori-Atta (Thousand)
New Artist of the Year
Lasmid
D Jay
DJ Azonto
Skyface SDW
Gambo
Most Popular Song of the Year
'Country Side' – Sarkodie ft. Black Sherif
'Friday Night' – Lasmid
'Wayε Me Yie' – Piesie Esther
'Fa No Fom' – DJ Azonto
'Atia (High-life Rendition)' – Epixode ft. Kwabena Kwabena
'Soja' – Black Sherif
'Ofon Na Ɛdi Asɛm Fo' – Daddy Lumba
'On God' – Shatta Wale
Artist of the Year
Black Sherif
Piesie Esther
Stonebwoy
Sarkodie
King Promise
Shatta Wale
Uncovered Artist of the Year
Essi
Maya Blu
Cojo Rae
Tripcy
Theo Vesachi
Niashun
Shuga Lord
Vanilla
Mista Myles
Producer of the Year
MOGBeatz
Killbeatz
Nacee
Kaywa
Gomez Beatz
Samsney Beats
Shadrach Yawson
Da Maker
Beatz Vampire
Abochi
Best Music Video of the Year
Sarkodie – 'Labadi' ft. King Promise
Piesie Esther – 'Wayε Me Yie'
Black Sherif – 'Konogo Zongo'
Scott Evans – 'Best Side'
Kwabena Kwabena – 'Afraid To Lose You'
Stonebwoy – 'Therapy'
D-Black – 'Dindin' ft. Efya
Sista Afia – 'Carry Go'
FBS – 'Jo' ft. Mr Drew
Sefa – 'Enjoyment'
Most Dominant Fanbase of the Year
69 Fans
Gadam Nation
Team DH
Daddy Lumba Fans
Shatta Movement
BHIM Nation
Meditants
Team Move
Sarknation
Shay Gang
UK-Based Best DJ
DJ Ozberga
DJ Invisible
DJ P Montana
DJ FiiFii
DJ Master P
DJ Paak
UK-Based New Artist of the Year
JBEE
FeelGudAlways
Francisca Amoah
NGB Muni
Internal B
Martha Brako
Mayqueen
UK-Based Uncovered Artist of the Year
Kwayku
De.ViZION
Yaw Bossman
Kevin Omarr
Malisca Cardna
Drogo
UK-Based Songwriter of the Year
De.ViZION – Cry Out Psalm 34:17
Black Kat Gh – So Much Love
Ohene – Say I Do
UK-Based Afrobeats/Afropop Artist of the Year
GoldKay
Ras King Bobo 1
Denny
Charles Kalah
Kin Frenzee
UK-Based Afrobeats/Afropop Song of the Year
Come For Your Chocolate – Charles Kalah
Glow – Denny ft. Yaa Pono
Free Your Mind – Ras King Bobo 1
Boss Chick – Kin Frenzee
My Girl (Remix) – GoldKay ft. David Jay
UK-Based Highlife Song of the Year
'So Much Love' – Black Kat Gh ft. Kwabena Kwabena
'Hand of God' – Ohene
'Cocoa' – Kwadwo Obeng Barima(K.O.B)
'Twe Da' – Marco Lowrey
'Waka Waka' – Kay Bryn
'Shidaa Remix' – K. O. G ft. Captain Planet
UK-Based Highlife Artist of the Year
Ohene
Kwadwo Obeng Barima (K.O.B)
Marco Lowrey
UK-Based Artist of the Year
Goldkay
Denny
Charles Kalah
Minister Kofi Nyarko
UK-Based Live Performance Band of the Year
Ozimzim
The Compozers
Davison Band
Minor Seventh
Onipa
UK-Based Gospel Song of the Year
'Bless Me' – MayQueen ft. Igwe
'Agyenkwa Hene' – Samuel Sey ft. Efe Grace
'Give Me Rest' – Yvonne Asamoah-Tawiah
'Omo God' – Alice Mckenzie ft. Morris D'Voice
'Nyame Ahyira Wo' – Nana Amankwah Tiah (Ekaade) ft. Lady Ann
'Mo (Well Done)' – Alex Acheampong ft. Morris Babyface
'N'Adom' – Min. Kofi Nyarko ft. Minister OJ
'Blessed' – Joseph Matthew
UK-Based Gospel Artist of the Year
Samuel Sey
Yvonne Asamoah-Tawiah
Alice McKenzie
Nana Amankwah Tiah (Ekaade)
Min. Kofi Nyarko
Alex Acheampong
UK-Based Collaboration of the Year
Goldkay – 'My Girl Remix' ft. David Jay
Francisca Amoah – 'Mogya Edi Bem' ft. S.K. Frimpong
Star Vicy – 'Kabutey' ft. Welzy
Geo Wellington – 'New Day Yeye' ft. Zims
Samuel Sey – 'Agyenkwa Hene' ft Efe Grace
Marco Lowrey – 'Twe Da Remix' ft. Medikal & Kurl Songx
Alice McKenzie – 'Omo God' ft Morris D'Voice
Min. Kofi Nyarko – 'N'adom' ft Min O.J.
Nana Amankwah Tiah (Ekaade) – 'Nyame Ahyira Wo' ft Lady Ann
Black Kat Gh – 'So Much Love' ft. Kwabena Kwabena
UK-Based Producer of the Year
Ephraim Beatz
Charles Kalah
Adeshie Studios
Da BeatMasta
FeelGudAlways
Ghanaian Contemporary Act of theYear
Wiyaala
Atongo Zimba
King Ayisoba
K.O.G (Kweku Of Ghana)
Santrofi
FRA!
Kakatsitsi
Kyekyeku
Best Touring Band
Gyedu-Blay & The Ambolley Sekondi Band
Santrofi 
FRA!
K.O.G & The Zongo Brigade
Dela Botri & The Hewale Sounds
Super Opong Stars
First Class Band
Amamere Folk Music 'n' Dance Ensemble
Afrodat Troupe
Adesa Taloi
(Source: Music in Africa)
Related
Nana Yarquah
Send an email
October 8, 2023