Entertainment
Rocky Dawuni readies for AfroZons Pre-GRAMMY Nomination Celebration on Saturday, February 4th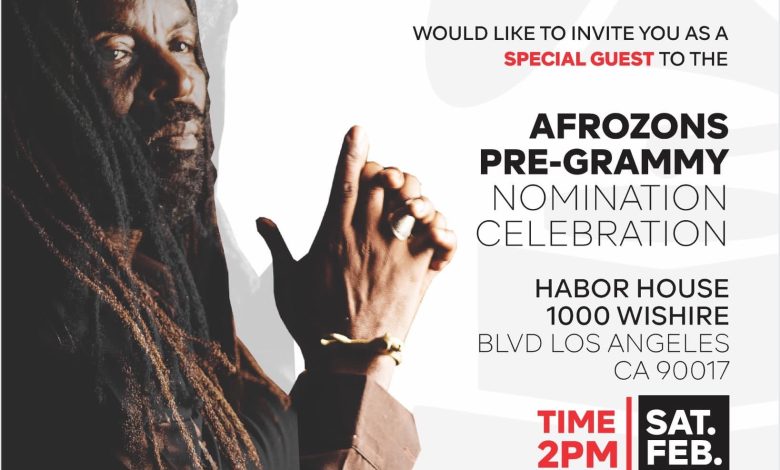 Afrozons Celebrates African GRAMMY Nominees Rocky Dawuni, Tobe Nwigwe, Eddy Kenzo, Nomcebo Zikode, Angelique Kidjo & more at the AfroZon Pre-GRAMMY Celebration Party on Saturday, February 4 from 2-6pm at Habor House in Downtown Los Angeles! PLEASE RSVP to [email protected] Very limited space available.
Afrozons founder, Sheila O, recently played host to Nigerian born American based rapper, Tobe Nwigwe and Ghanaian musician and activist Rocky Dawuni in Lagos, Nigeria to celebrate the first leg of the Afrozons Pre-Grammy Celebration. Nwigwe, who also doubles as an actor, is nominated for "Best New Artist," while Dawuni is nominated for "Best Global Music Performance" for his single "Neva Bow Down" featuring Jamaica's Blvk H3ro.
​
Dawuni who is nominated for his 3rd GRAMMY Award, states "African music right now is impacting the world, it has always impacted the world. But the world never acknowledged it because you only have to look at popular music and you know that the influences were more of a cultural conversation between the motherland and the Diaspora. But now with the power of the internet we have seen our music circumvent many of the traditional gatekeepers who used to define what the African sound is. I believe this is a new chapter in African music." Dawuni'ssignature Afro Roots style is a musical genre that reflects modern Africa. It is built upon the foundation of using cultural styles and integrating current innovations to create concsious music that is inspiring, soul stirring and danceable. As a dedicated activist, Rocky has been a leading voice for social and environmental transformation and currently serves as UN Goodwill Ambassador for the Environment for Africa, amongst other designations.
"Lord Forgive Me" rapper, Tobe Nwigwe, spoke alongside his wife and fellow musician Fat Nwigwe about his GRAMMY nomination stating; "For me it's surprisingly overwhelming that they would have the audacity to nominate an independent artiste like me especially in this kind of category. I was shocked but it was a good surprise. We are just extremely happy to be in this position."
​

​GRAMMY nominees including Burna Boy, Eddy Kenzo and a host of others will be attending the event in Los Angeles on February 4th which is graciously supported by Ayeya, Star Beer, Black Music Collective and Afro Funke'.
​​
Please JOIN US to honor the African Nominess at the GRAMMYS this year! ​
​
​Afrozons Pre-GRAMMY Celebration Party
Saturday, February 4th, 2023​
​Habor House ​
1000 Wilshire Blvd
Los Angeles, CA 90017
2pm to 6pm
​​
PLEASE RSVP to [email protected]
​
​AfroZons is the first-ever Afrobeats show on a major US radio FM network. It is now a weekly, nationally syndicated showcase of the latest cultural trends, topical conversations and music from the afro diaspora, including urban fusion sounds from the western world. AfroZons, "where hip-hop meets afrobeats," bridges the gap between the global afro culture and the America urban culture by highlighting the array of sounds and cultures from the continent.
(Source: Cary Sullivan)