Plugz Spotlight
Rocky Dawuni, Buyepongo, Jeremy Sole, Glenn Red, Kahlil Cummings, More for Afro Funke's 20th Anniversary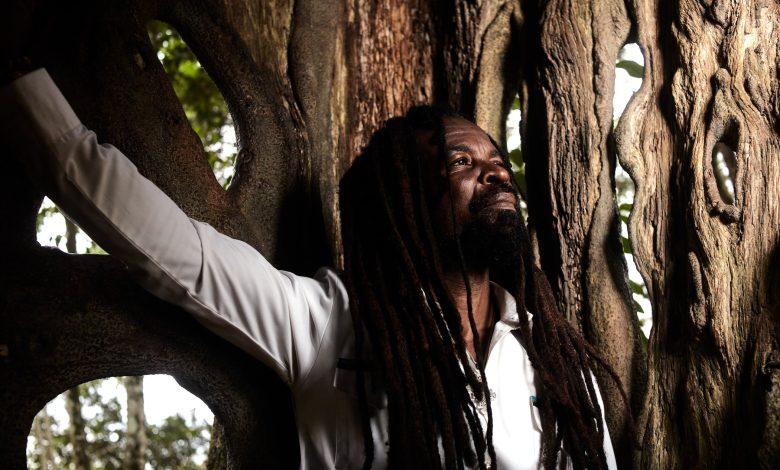 KCRW & the iconic Grand Performances are teaming up for an extraordinary night in honor of the 20th Anniversary of Afro Funke' on Saturday, July 22, 2023 from 6 to 10pm at Grand Performances in downtown Los Angeles! The event is free, all ages and picnics are welcomed.
​
Please come out and celebrate the legacy of the once weekly party night that turned global, with live performances from Rocky Dawuni and Buyepongo, plus DJ sets from Afro Funke' resident DJs Glenn Red, and Jeremy Sole (resident KCRW DJ too!) and live drumming and dancing by the amazing Kahlil Cummings & friends! Join us for Afrobeat, Latin, Brazilian, Indian, Jamaican and other traditional and remixed world rhythms, plus African drumming and dancing, DJ Culture, arts & crafts, merch and much more!
About Afro Funke'​
​Afro Funke' which is celebrating its 20th Anniversary in 2023, was the brainchild of 3x GRAMMY nominated Afro Roots musician and activist, Rocky Dawuni, who realized LA's need for a night dedicated to African music, culture and art and it's far reaching legacy around the world. Afro Funke' was a super successful weekly event every Thursday night at Zanzibar in Santa Monica for over 10 years with the generous support of owners Louie & Netty Ryan and then moved on to be periodic event throughout Los Angeles at various larger and smaller scale venues including Levitt Pavilion, Grand Park, Hammer Museum, Fowler Museum, Townhouse in Venice as well as international events.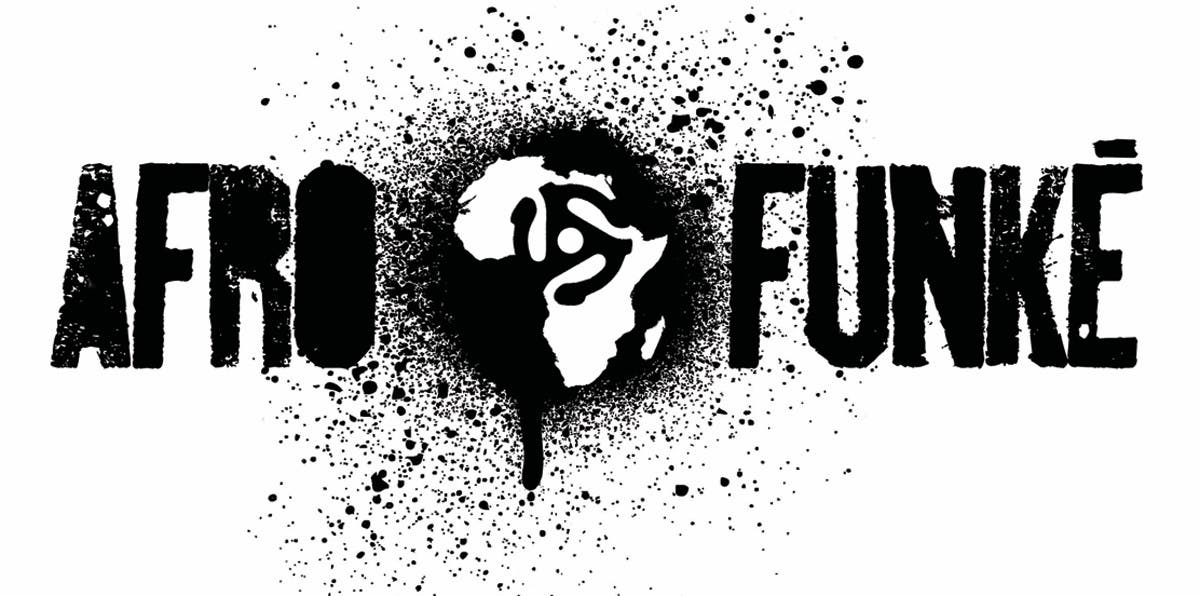 ​
​Dawuni (who is now based back in his native Ghana,) together with producer, talent curator and photographer Cary Sullivan created Afro Funke', bringing on board resident DJ and co-founder DJ Jeremy Sole (KCRW, Le Frique Sonique) Afro Funke' has presented international guest DJs, live band performances, guest musicians, dancers, cutting edge films, record release parties, fundraisers, fashion shows, art and photography installations, crafts and more. Sole spins his unique "Musaics," or sound collage-blends of hip hop, jazz/funk, dub reggae, afro beat, and remixed world beats; pieced together with tribal breaks, and uplifted by dubbed-out turntable manipulation and live instrumentation. DJ Glenn Red (La Junta) is our second resident DJ and is an integral part of the Afro Funke' Sound System. Afro Funke's profile has been greatly enhanced by its unique photo-based flyers which feature Cary Sullivan's cutting-edge photographs of West African life.
About Rocky Dawuni​
Afro Funke' founder, Rocky Dawuni with his full 12 piece "Afro Roots Band" will headline the night. The three-time GRAMMY nominated musician and activist, straddles the boundaries between Africa, the Caribbean and the US that unites generations and cultures. A galvanizing performer, Dawuni has shared the stage with luminaries including Stevie Wonder, Ozomatli, Sauti Sol, Peter Gabriel and John Legend. Named one of Africa's Top 10 global stars by CNN, he has showcased his talent at prestigious venues such as The Kennedy Center, Lincoln Center and The Hollywood Bowl. Rocky is a UN Goodwill Ambassador for the Environment for Africa. Through these and other designations he uses his music to shine a light on crucial issues facing humanity cross the globe through live concerts, speaking roles, panels, youth empowerment and much more​!
​http://www.rockydawuni.com ​
​https://www.instagram.com/rockydawuni​
​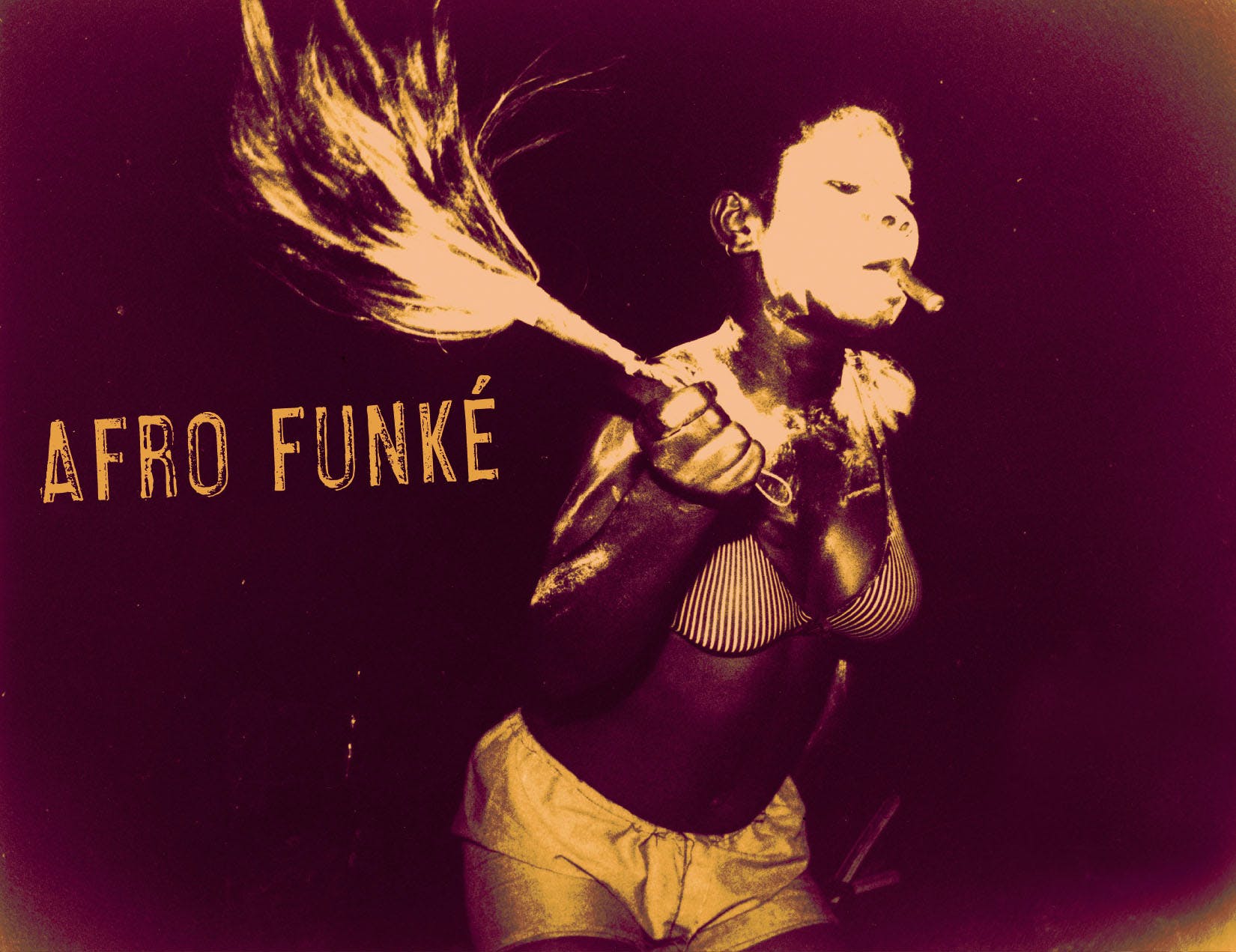 About Buyepongo
​Hometown favorites, Buyepongo make contemporary pan-Latin music in the style they intriguingly call "buyangú" — an eclectic but cohesive mezcla of global beats and spicy flavors influenced by their California home base as well as the band members' travels to Central and South America. https://www.instagram.com/buyepongo​
​https://buyepongo.bandcamp.com/
About Jeremy Sole ​
Jeremy Sole's upbringing was seeped in the rich Chicago history of Blues, Jazz, Disco, Salsa and Soul – and he reveled in that space where they all blend together. As a teenager, Sole threw loft parties that were a culture clash during the birth of Hip Hop and House music. His obsession grew to include music from every corner of the world and, in 2001, Sole moved to LA. With a broad musical palette, he felt right at home in the spiciest melting pot in the country. ​ In April 2006, Sole was in the studio working with Ms. Lauryn Hill. After hearing him mix, she asked if he had ever considered getting into radio, "…because this is the music the people need to hear". Months later, KCRW called to ask him that same question, and since then you can hear him Wednesdays from 12-3am on 89.9FM and KCRW.com.​​ https://www.instagram.com/jeremysole/​​
​https://www.kcrw.com/music/shows/jeremy-sole​​ ​
​
About Glenn Red ​
​Known primarily for his work as half of Santa Monica's legendary Afro Funké Sound System and one-third of beloved Afro-Latin deejay/producer collective, La Junta, GLENN RED quietly continues to forge a loyal following among fans of eclectic music, steadily rocking crowds in the city's most respected venues alongside the finest selectors and musicians from around the world. With the honest music of passionate artists as a common thread, his deejay sets weave fluidly through time and across genres, connecting the traditional sounds of Africa and the Americas with their modern expressions around the globe. Afrobeat, Cumbia, Rumba, and Samba rhythms embrace Funk, Soul, Hip-Hop, and Reggae, as Glenn's rhythmic and multifaceted sound echoes the deep, colorful, and spirited energy of LA and its soulful people. ​​https://glennred.com ​
​http://www.instagram.com/glennzenn10​
​
About Kahlil Cummings​
Kahlil Cummings, a Los Angeles native, is an acclaimed drummer, exceptional performer, composer, and educator. Kahlil was recognized as a child prodigy very early. He has played with numerous reputable groups including Ballet Folclórico Do Brasil, Sona Sané, Abalayé, Mila Samba School, Inu Olorun, Debbie Allen Dance Company, Les Amazones, and Viver Brasil. Kahlil honed his rhythmic gifts with noted teachers including Mestre Amen Santo, Jose Ricardo Sousa, Kobla Ladzekpo, Esteban "Cha Cha" Bacallao (Ibae), and Sandy Perez. His studies in Guinea, Brazil and Cuba have helped to widely broaden his knowledge and musical strength. However, he is most profoundly influenced by West African master drummer Mamady Keita, with whom he has studied since the age of 13. Kahlil is the founder of Extra Ancestral which began in 2017 as an ensemble that aims to educate audiences through the fusions of hypnotic Afrobeat, Reggae, Jazz, Afro-Latin, and traditional African diasporic rhythms, narrated by powerful ancestral dancing. Kahlil also plays and tours with international recording artists Rocky Dawuni, Kamasi Washington & many more. ​​http://www.kahlilcummings.com
​ ​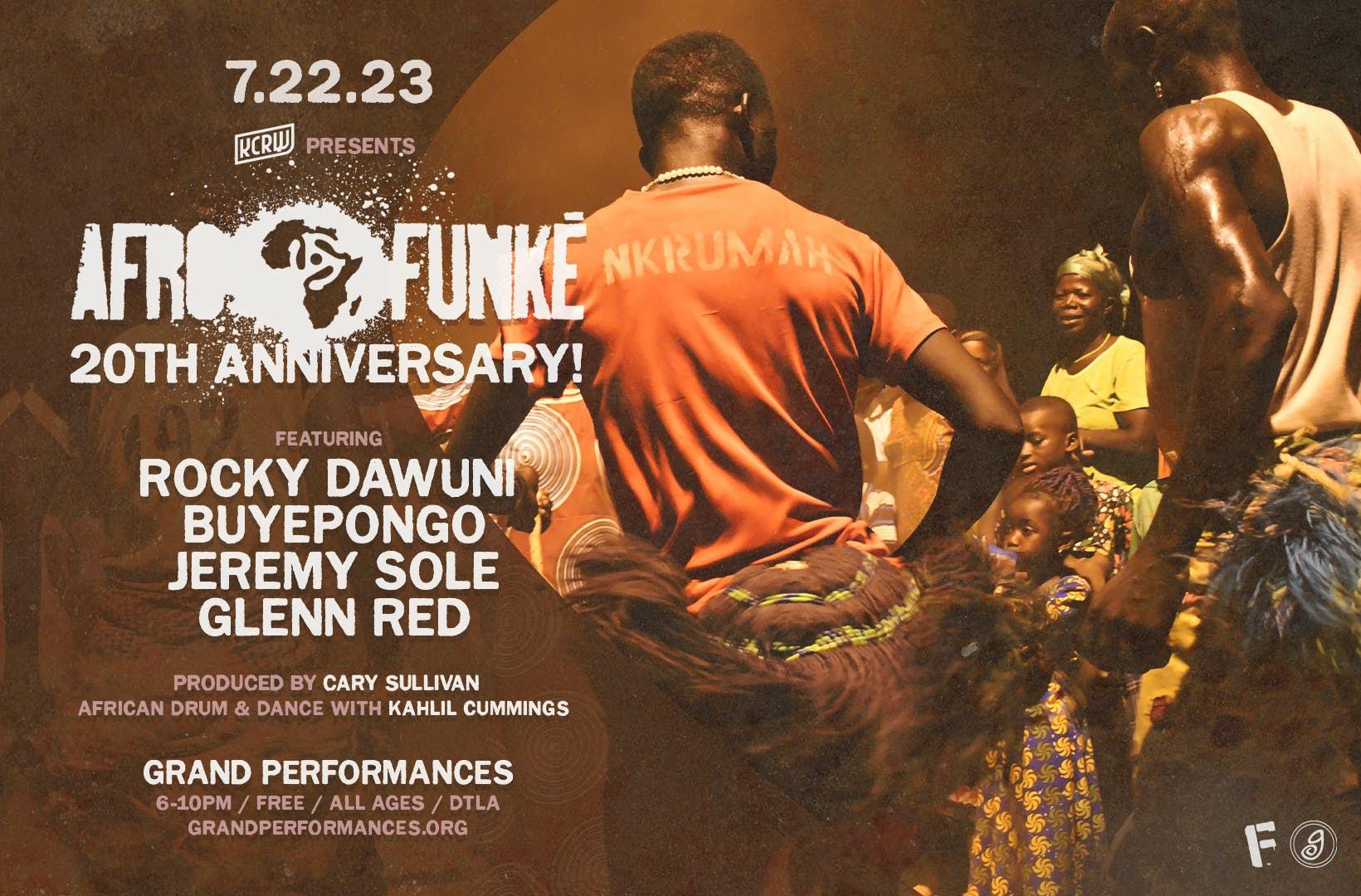 About Cary Sullivan​
Cary Sullivan is the co-founder and producer of Afro Funke'. She is a multi-talented photographer, artist manager, event producer, talent curator, promoter, activist and mother who has run the gamut of the culture, music & art landscape from coordinating festivals in Africa to producing progressive radio in Los Angeles. Cary co-owns and operates AQUARIAN Records, which is a record label and production company dedicated to bringing the eclectic culture of Ghana to the world through music, live concerts, photography, philanthropy and wellness; working primarily with GRAMMY Nominated musician and creative activist, Rocky Dawuni as well as a group of amazing up & coming artists. ​​http://www.instagram.com/afrofunke​
About KCRW Summer Nights
​KCRW Summer Nights is BACK! We've teamed up with some of the best cultural hotspots around Southern California to throw the perfect summertime parties. These nights are FREE, all-ages, outdoors, and will feature your favorite KCRW DJs, bands, exhibits and more. So mark your calendar, dust off your dancing shoes, and spend the season with us! https://www.kcrw.com/summer-nights
​​
About Grand Performances
​Grand Performances, the longest running presenter of free outdoor concerts in Los Angeles, is returning this year to the newly renovated California Plaza in DTLA for its 37th season! Grand Performances mission is to inspire community, celebrate diversity, and unite Los Angeles through free access to global performing arts.
​
​Please JOIN US on Saturday, July 22, 2023​
6 to 10pm / FREE / ALL Ages
Parking available on site for a fee
Picnics and families welcome
**Special thanks to Fusicology for all of their support!
Grand Performances
​350 South Grand Avenue
Los Angeles, CA 90071
213-687-2190
​http://www.grandperformances.org
PLUS we are doing a very special After Party from 10pm to 2am at
​The Moroccan Lounge right after the Grand Performances event which is just a few minutes away!! Please come through and let's continue the Afro Funke' 20th Anniversary Celebration!!
​
​The Moroccan Lounge
901 E. 1st Street
Los Angeles, CA
213.295.0610
​$10 presale and $15 at door