Events
Rocky Dawuni jets off to Costa Rica for Concert after 65th Grammys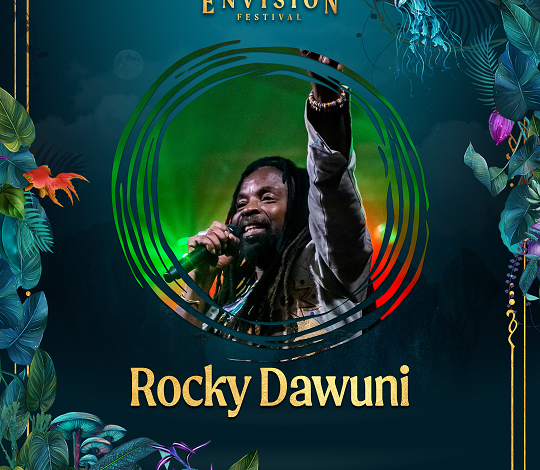 Fresh off of his 3rd GRAMMY nomination, Ghana's revolutionary music star and activist,
Rocky Dawuni is headed to Costa Rica for a series of concerts and events. On March
4th, Rocky is scheduled to perform at one of the biggest festivals in Costa Rica,
Envision Festival, which is bringing artists from all of the world for 8 days of music,
dance, yoga and workshops on the Pacific Coast. He will be sharing the stage
alongside artists like Bonobo, California Honeydrops, Rising Appalachia and many
more.
"Envision's mission is to create an eye-opening experience that turns us onto a
new form of living; a new way to be inspired. To provide tools that can be
integrated into the life we are already living or to inspire a complete shift in our
life path. The connection to nature can be felt in every aspect of Envision and the
ripple effect of what people then take away from the festival is much more potent
than just a good party." The Ghanaian musician is also scheduled to lead a workshop
focusing on music, activism and current global issues on Sunday, March 5th at Envision.
Rocky will then head to the Caribbean side of the country for a series of cultural events
including headlining the historic "International Concert Against Racism" that is
scheduled to take place at the Plaze de Deportes in Playa Negra Cahuita on March 8th
at 5 pm. The concert is being spearheaded by the former Vice President of Costa Rica,
Epsy Campbell. As a musician whose intention is to create spiritual and cultural
bridges between Africa and the Afro Descendent Diaspora, this concert provides an
opportunity to raise awareness of the important contributions of people of African
descent of across the Americas.
Rocky Dawuni states; "In a time when issues of black people and people of color are
increasingly being diminished. There is a need to amplify and empower our collective
voice as a means to define our future. Elevating the music and the cultural connection
will be key to harmonizing our intentions towards this prime objective."
In regards to Rocky's tour, Epsy Campbell, former Vice President of Costa Rica, stated
"we will hold in Costa Rica, the first "International Concert Against Racism,"
organized by the Global Coalition Against Systemic Racism on March 8th, 2023. Our
goal is to raise awareness and create an international community committed to
eradicating racism and protecting victims of racial discrimination. We are honored to
welcome Rocky Dawuni and his band from Ghana, an artist committed to the rights of
Africa and its Diaspora.  Also, will have the participation as special guest the Mexican
actor of the movie Wakanda Forever, Tenoch Huerta, a recognized anti-racist activist.
On the stage will be Puerto Rican musician and composer William Cepeda, Kawe
Calipso and Sasha Campbell.  We are using music and art to build a new culture of
respect and dignity for all people."
Dawuni continues his efforts in bridging the cultural gap between Africa and the
Diaspora with his signature "Afro Roots" sound which has played a part in the current
popularity of African music around the world. Having been the first Ghanaian to be
nominated for a GRAMMY and now having been nominated in three different GRAMMY
categories (Branches of The Same Tree for "Best Reggae Album" in 2016, Voice of
Bunbon, Vol. 1 for "Best Global Music Album" 2022, and Neva Bow Down featuring
Blvk H3ro for "Best Global Music Performance" 2023), Rocky continues to innovate
at the forefront of Ghanaian music's global expansion with a sonic palette that fuses
West African Highlife, traditional African music, Afrobeat, Jamaican Roots Reggae
sounds, Soul, Pop and more.
What's up next for Africa's shining star…stay tuned.
For more information/contact for Rocky Dawuni please check out:
http://www.rockydawuni
http://www.youtube.com/rockydawunimusic
http://www.instagram.com/rockydawuni
http://www.facebook.com/rockydawuni
Tweets by RockyDawuni