Entertainment
Kwadwo Sheldon sets all straight with KalyJay's meeting outfit with Daniela Orlandi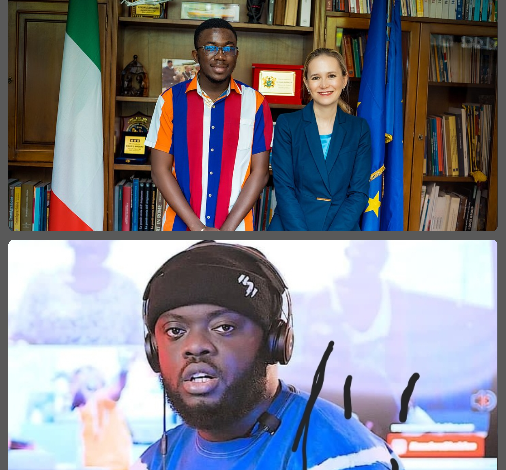 Ghana's Twitter space is currently heated up with conversations others call unnecessary. It all started when Ghana's top Twitter Influencer KalyJay visited the Italian Ambassador to Ghana and Togo Daniela d'Orlandi and wore a multicoloured shirt which some social media users see as odd because he should've worn a suit meeting with such a diplomat.
In Kwadwo Sheldon's "Yawa of the Day" video published on his YouTube page, he described the criticisms by Twitter users as very unnecessary. He counted the fact that; though KalyJay didn't wear a suit, his impact was what was needed in the meeting and not outfit and it's time Ghanaian youths start thinking wide and stop conversations online, which is never associated with the growth of Ghana or its people.
Meanwhile, Kwadwo Sheldon hinted at the fact that he is not cool with KalyJay but he has to make some money online with the circulating topics around KalyJay online.
Watch Video Below: