Events
Grace Jamaica Jerk Festival New York Scheduled for Sunday July 31st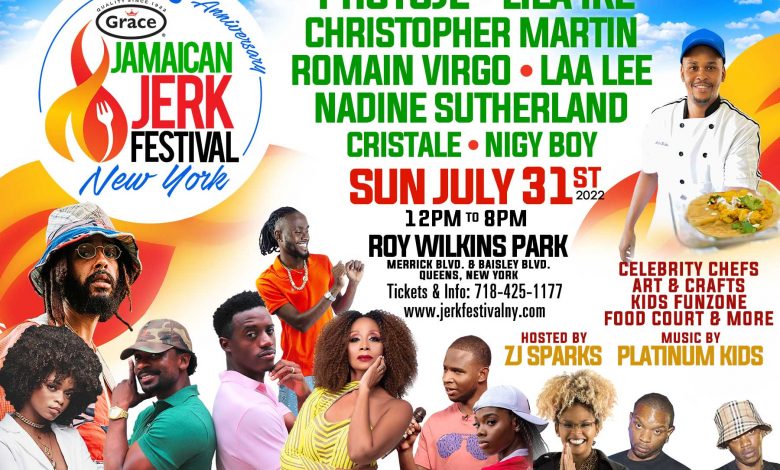 Kids and cultural arts are a focus at the 10th annual Grace Jamaica Jerk Festival New York, scheduled for Sunday, July 31st, at Roy Wilkins Park in Queens. The Festival, which has earned the distinction of being the "Biggest Caribbean Food Festival in the USA," attracts over 20,0000 multi-cultural fans who all enjoy the food, music and cultural offerings of the festival.
Activities for the young ones are always a core element and  The Kids Zone will be buzzing with fun activities featuring "Little Jerks Big Shots Show", a spin-off of the popular TV series where kids interview adults asking the funniest of questions causing spontaneous laughter. Additional activities will include educational and brain-teasing puzzles, traditional ring games, and immersive activities such as face painting and art. Many of the activities in the Kids Zone will draw interest from the parents, who at times may have more fun than the children themselves.
Various snacks such as cotton candy, popcorn, ice cream and hot dog will be available to satisfy their sweet tooth. At the same time, rock climbing, face painting and games will exercise their physical and mental will in an entertaining manner providing for a fun-filled day.
On the cultural side, African drumming holds significant meaning in Caribbean Culture and the Asase Yaa Cultural Group will highlight their talent in a presentation of traditional folk performances. The ever effervescent "Kulture Keeper" Sharon Gordon will host this segment where spoken word, comedy and fashion will all take centre stage at this year's Festival. Performances by the amazing Nigy Boy and Fashions by Mamayashi will be a highlight of the day and should not be missed. This is an excellent parent-and-child experience to share their heritage and connect culturally.
Patrons will enjoy performances from some of the brightest talents in Reggae and Dancehall such as, Protoje, Lila Iké, Romain Virgo and Christopher Martin, Laa Lee (in his first New York performance), Cristale and recently added is Reggae royalty, Nadine Sutherland.  Her show-stopping performance will have fans grooving when she performs hits such as "Baby Face," Wicked Dickie," "Anything For You" and her latest hit single "Queen."  The official MC for this year's Festival is ZJ Sparks from Zip FM in Jamaica.
Over 30 food vendors will be offering a variety of jerk cuisine and other Caribbean dishes and the Culinary Pavilion will feature cooking contests, celebrity cook-off and sampling. Arts and crafts vendors will showcase a number of novelty items for purchase.
Tickets for the Grace Jamaican Jerk Festival New York are available online and at selected Caribbean retail outlets for $45; the day of the event, tickets will be $60 at the gate.  Children 10 and under are admitted free, and there will be a special discount for first responders and seniors with proper ID at the gate. Visit 
www.jerkfestivalny.com
for a list of ticket outlets and event details.